Active Vegan Travel To Portland, Maine!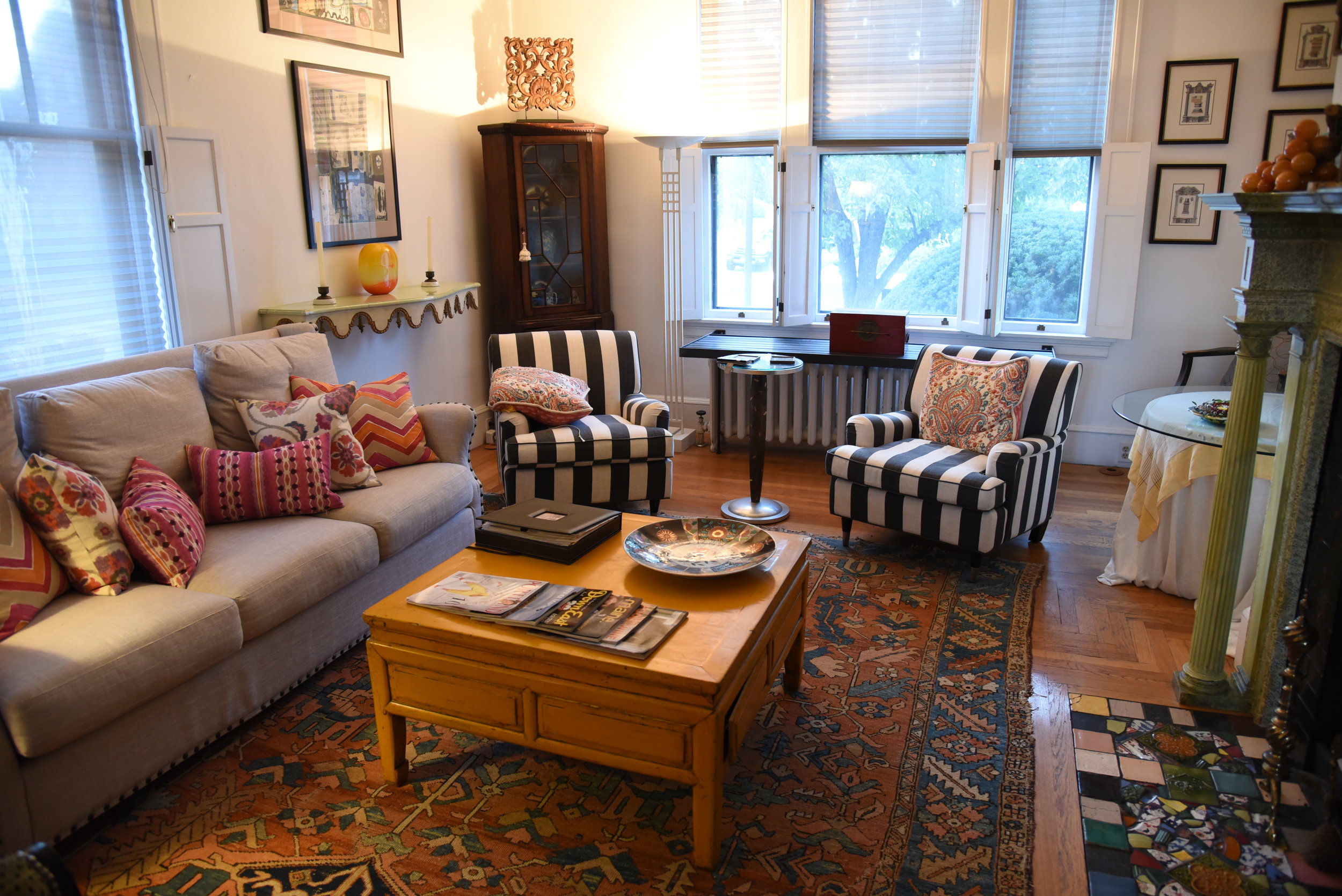 The rooms at the Pomegranate are so colorful and fun, spacious and very unique. Every room it is completely different (I might peeked a few) and the whole inn makes you go back in time.
The hotel it is situated within a 10 minute walk from the main streets, shops and restaurants. We founded to be perfect, since you avoid all the noises from the city but you can still go out and have fun without getting on a car.
The inn has a couple common areas to relax or hang out. The main common area has a selection of books, and a big book with all restaurant menus, and a tea and coffee station.
The breakfast is included, and through out the day there is tea and coffee ready to serve. I was a bit worried what the breakfast was going to be like, since Matt and I don't consume animal products, but the staff created amazing vegan meals every morning. We were very spoiled, but grateful that they thought about us.
I have stayed at another Lark hotel before (you can read here) and as I said before, they don't disappoint! A MUST in New England.
STAYING ACTIVE:
When I travel I love trying local studios, to me it is a perfect way to really see what locals do and go. This time I tried Niraj Yoga. A small studio on one the main streets.
When I googled "yoga classes" I was surprised to see so many options, but Niraj seemed unique. I loved their approach on making yoga accessible to everyone; they dropped their prices so everyone can really afford staying active and benefit from the practice. $11 classes and $5 "happy hour" classes. No rental fee for mats, or straps, etc. This inspired me so much to keep creating free workout videos on my page, because to be honest, staying fit and healthy it is for everyone.
The yoga class was a vinyasa flow with very deep and long holds, which I needed that night. Very intimate setting, with low light and close by the hotel we stayed at.
The space was small, but perfect for the class.
A very unique way to stay healthy and fit.
This workshop was the reason we went up to Portland, and it was AMAZING. We got the chance to learn about the modern circus life, learn a few tricks and see the professionals perform.
We did a quick learning day on the trampoline (my favorite part), the silks, and the balance beam. Oh and some handstands tips (2018 goal its to finally do one!) - It was such a fun way to move around and feel like a kid, and I actually felt so sore the day after, which I didn't expected at all!
We had a meal and a the opportunity to see them perform and WOW! I honestly have so much respect for them, they are incredibly talented and passionated, and you can tell. I haven't been on a circus for a while, and I'm so excited to be back and watch them. This type of circus isn't what it used to be with animals and all that, but instead it is a creative performance around different themes, like cabaret.
When chatting with them afterwards, we realize that doing and visiting something "different" it's typically done because a friend tells you it was great, not because of the advertisement. And as a entrepreneur, I completely agree. Some people find about this blog because their friend todl them about it, and it's the same for the circus. So from a friend to another, let me tell you, you HAVE to see them perform. Their passion and commitment to keep this art alive shows on every move, and you will be amazed of the things they can do.
If you live in Portland or close by, sign up for their courses, you will be obsessed with them!
VEGAN EATS:
We asked around for people's favorite vegan eats, and EVERYONE, said Green Elephant, so we went. Let me know tell you, everyone recommends it for a reason, it is SO GOOD!
It is marketed as a "vegeterian" bistro, but it is mostly vegan. Asian inspired dishes done with local products, good beer, and really good staff. We got there 40 mins before closing (even later) and they served us like if we were the first ones to arrived.
The menu had some spicy dishes that I was very happy to see, and try! we tried their teas, tapioca desert, a thai sandwich and a curry. OH and dumplings as entree! YUM YUM!
Highly recommend it to go on a date, or casual dinner.
Also vegetarian/vegan, this place has your comfort food, from burgers to muffins and really good coffee.
It is more of a coffee shop styled restaurant, for a quick bite or seat down to work. Very family friendly, and highly additive (we went 2-3 times!)
One thing I loved, was that everything they use is from a local farm/vendor. They have a New England map that points exactly were everything comes from, the name of the farm/vendor and what they get from them.
To me was a 10/10 - super low key, affordable and on a good area.
We have this new obsession for Ethiopian food. We first tried it back in D.C a few months ago, and we were not only impressed of how good it was but really amazed of the flavors. It reminds me a little of bit of Mexican food, in the sense that it involves tons of spices, grains and veggies, and that is spicy.
Asmara is a small restaurant and you need a reservation, it is nothing fancy, but it is soooo worthy. We got there with the hope we would get a table, waited for 15-20 minutes and we finally got one!
We got one big share plate, that it had tons of different dishes, and they are serve on an Injera (a rounded flat bread/tortilla ). At every restaurant I've been that has Ethiopian food, it is eaten with your hands. So don't be scared when you go. If you are Mexican, you have probably eaten your whole meal just with tortillas, and believe me, those skills HELP TONS! at an Ethiopian restaurant.
I hope you enjoyed this blog post, and makes you go and travel around New England. Don't forget to check out Circus Maine and The Pomegranate Inn! I swear you will love them too.
Xx
-Ana